Bringing learning alive using AR and VR in museum - based education programmes
By Tara Fagan, Project Director, Raranga Matihiko | Weaving Digital Futures, Museum of New Zealand Te Papa Tongarewa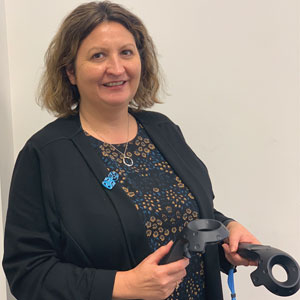 Tara Fagan, Project Director, Raranga Matihiko | Weaving Digital Futures, Museum of New Zealand Te Papa Tongarewa
AR and VR are changing what it means to showcase learning and while these are technologies that are ever-advancing, these are technologies that can support student learning now. At the Museum of New Zealand Te Papa Tongarewa we are using AR and VR in our education programmes with school-based learners in order to enrich their experience in the museum.
Both AR and VR have their place in education. At this point in time, AR is the more sociable and initially the more collaborative of the two. Once in VR, with the headset on, students are on their own in the virtual world and while there can be collaborations between devices and users, on the whole students are working in the virtual space in isolation of others. This aside, there are many benefits through the use of cardboard viewers to more elaborate set-ups such as HTC Vive which afford students opportunities to learn and to create in the new ways.
VR can take us to new places so we can walk around and virtually experience these locations. Students can be 'transported' to a different country through VR and this virtual exploration adds to what they are learning in class enabling a much richer learning experience. An example of what this looks like in practice is a class of year 4 students who were learning about Banaba Island and were able to visit through VR to view the impact of phosphate mining - seeing the land virtually in 3D really highlighted the devastation of the island.
Augmented reality and apps like HP Reveal enable students to design and create their own guided tour around the museum using exhibition items as markers. Students' record information which is overlaid onto markers for other students and visitors to access through smartphones. Using AR in this way enables users to create and share in spaces that they may not otherwise be able to.
Real richness to learning comes when students use these tools to mix, create and build for themselves.
A simple example of how we might use VR and cardboards in our museum-based education programmes is through students creating, either traditionally or digitally, then importing their work into Instamuseum so student projects are curated together in their own virtual exhibition.

One of our programmes draws on our exhibition Gallipoli: The Scale of Our War. Our team leads students through the exhibition and after spending an hour learning in the space, our facilitators talk with the students about the emotions they might be feeling and invite the class create an emotional response to the exhibition. This response is 3D scanned and imported to virtual reality platform Sketchfab so that students curate a virtual exhibition which can be viewed larger than life-sized by using smartphones and cardboard viewers as well as with a Hololens. Learners can add their own narrative by uploading audio recordings to create a fully immersive experience. Through this students are creating and adding to existing narrative and are doing so using these new technologies.

As part of the Raranga Matihiko | Weaving Digital Futures programme, a partnership between the Ministry of Education and four museums, we address student equity and access to using and understanding digital technologies while drawing on a cross-curricula project-based approach. Virtual reality again plays an important part of bringing together student work. During their two day learning programme at the museum students use digital technologies in relation to learning more about a focus area. Over the course of two days, student design using open source 3D design apps and these designs are then imported into the virtual reality app Tilt Brush and into a custom space that has been created by the facilitators such as a wharenui (meeting house) or a local forest. This brings together individual student or group work and locates it in a virtual world which is saved as a movie for students to continue to access. An example of this is Paparore School who had a focus on Maori technology and Arts. Some of the opportunities that the students explored over the two days in the museum, and through the outreach visit were:

• Create a carving using 3D sculpt tools that shows pupu harakeke, or a design that is inspired by the pattern on pupu harakeke
• Movie making using green-screen and digital tools
• Learning about the stories contained in Toi Māori

The students work, developed using a range of different apps such as ScupltGL, Tinkercard, and Tiltrush VR, was assembled into a whare (house) created in Virtual Reality. Being able to design objects in 3D, rather than flat, provided students with different perspectives as they thought about design elements. Student work was brought together in one piece. With VR equipment students could walk through the whare and explore. This was also created as a movie.

AR and VR have many affordances to support the learning process. This includes the element of provisionality - the ability to press the undo button. In AR or VR, you can test ideas, see what might happen if you add on to your design and if it doesn't go according to plan, the undo button returns its previous state. Testing and iteration encourages active learning, risk-taking, and problem solving, all good skills for our young people to have.

We are evidencing real success with learners using these tools as they share their thinking and learning. AR and VR are only part of the rich learning programme that we offer but one that enables students to take different perspectives and create in new ways. AR and VR will be very much a part of our student's future and we need to ensure that these tools are there for them to create with as well as to enjoy.