The Killer Application in Augmented Reality
By Shiva Venkatraman, Founder & CEO, Varidus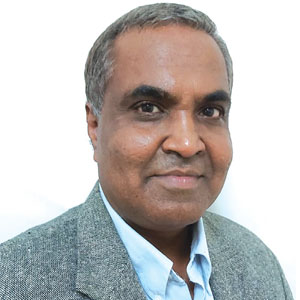 Shiva Venkatraman, Founder & CEO, Varidus
Augmented and Virtual Reality has been around for quite a while now. To quickly set the field for a novice in this area, AR is defined by superimposing information on real-world objects and can be achieved in a variety of ways - SmartGlasses or by QR codes and mobile phones. VR, on the other hand, is defined by creating a new virtual world which is separate from the real world. There is also a term called Mixed Reality, which is achieved by a combination of AR and VR. AR has not mushroomed into a large market as was expected by 2019 but there is definitely a large market. Let's talk about AR as a focus area.
In my opinion, Augmented Reality needs a killer application or a use case that will drive the adoption of Augmented Reality. The answer lies in the legacy of these applications. If you look at the history of AR applications, there were a lot of consumer applications like video recording, voice-based applications for navigation or language translation. While all of these were very interesting many consumers and enterprises often asked the question - "Why should I buy an AR Smartglass or spend resources developing a QR code-based mobile application", when I can achieve the same using a traditional mobile application. Another question is frequently asked is why a consumer or a business should pay for a special device like a Smartglass for viewing Augmented Reality experiences. Often, this involves educating the business or the consumer on the return on investment of the device, on Augmented Reality itself as a space and what can be done with the device, leaving the customer to wonder how to discover the value.
Many large publicly listed firms, notably Google and Apple, failed in their initial attempts to launch a killer application and successfully create an Augmented Reality Smartglass device that is cost-effective and justifies the return on investment. For example the Microsoft Hololens device is considered quite expensive by most businesses. Even Magicleap the most talked about AR device in 2019 disappointed many of its fans. Many firms are innovating the hardware itself and making it cheaper and better and eventually this hardware will either augment or replace the smartphone. So what is the killer app in AR?

In our opinion, the killer application for augmented reality would have the following characteristics

1. Hands free: It would involve a use case that can be solved only when the user absolutely needs a hands-free access to information. Examples of these types of use cases are in surgery where a surgeon is operating on a patient and needs information projected right in front of him/her in real-time against the body part undergoing surgery or a complex repair of a machine where the maintenance technician has heavy gloves and equipment in both hands.

2. Voice replay is not enough: So you might ask why not play a recording and control it by voice. The use case would involve pictures superimposed on top of a real-world object and voice is not adequate.

3. Cost-savings using a remote expert: If an expert is present in the same room, you may need an augmented reality application as the expert will show you what to do. But what if the expert is needed but it is prohibitively expensive to fly them to the location?

Some firms like Madgaze (www.madgaze.com) and others like Vuzix in the industry have launched an application like ME Support that allow an expert to remotely assist a technician at the other end. In fact, such applications have the power for one expert to remotely assist several technicians. If a business like a hospital, logistics firm or a retail store can have an expert in a central low-cost location, they can remotely guide and train, troubleshoot or repair equipment remotely with many novice users and in the process save a lot of time and operational costs for the business. If you think about it, this is a large billion-dollar market, which is still underserved, especially for equipment that is to be repaired post-warranty. Also, remote training of technicians is another huge market.

Finally, I believe this is just one killer application for Augmented Reality. There are potentially many others yet to be discovered. I believe that AR applications like Madgaze MESupport will transform the repair, troubleshooting and training industry forever. I will wait for this opportunity to play out with bated breath and optimism.