Creating the Store of Tomorrow, Today with Augmented Reality and Virtual Reality
By Amit Mangwani, Director Retail Marketing - Asia Pacific and Japan, Intel Corporation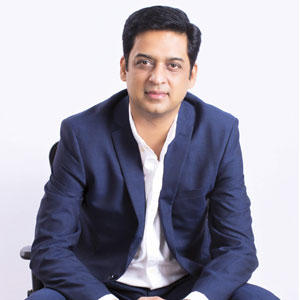 Amit Mangwani, Director Retail Marketing - Asia Pacific and Japan, Intel Corporation
When I say, "technology is evolving at an unprecedented rate", it may not make you scramble to the edge of your seat. But the fact that this fast-changing technology is pervading every industry without bias and threatening to leave late adopters in the dust should get your attention. Especially those in the retail industry. Why? The competition traditional brick and mortar stores are facing from online stores can be countered only with the right integration of technology.
Retailers need to take smart decisions about the technology they adopt. For many, choosing the right new-age technology from the options out there may seem overwhelming. Augmented Reality (AR) and Virtual Reality (VR) are emerging fast and are able to address the needs of Retailers to need to provide a differentiated experience to customers.
The two can transform retail for both customers and the business. It can change the way customers experience shopping and give retailers better tools to drive their business forward.
Today, while most shoppers are drawn by the convenience of online shopping, they are still driven to offline stores by the opportunity for showrooming. Retailers should leverage this by attracting customers with a unique in-store experience powered by AR and VR - two highly versatile technologies that lend themselves well to this.
Giving Personalization a New Face
VR and AR will help retailers provide what nearly every shopper seeks – personalization. Personalized offers and customized product experiences can subsequently result in an increase in the adoption and the acceptance of new technologies by customers. Recent research by Gartner, Inc. supports this. It states that 100 million customers are likely to shop instore and online, via AR, by 2020. Certainly, AR has come a long way from being used in Pokémon Go games.
Brands like Sephora are already at the forefront, using AR to boost their sales. The beauty brand has an AR integration in their Virtual Artist app that helps customers to visualize their makeup accurately at the store. It even allows customers to take tutorials on how to get a specific look.
When Sephora started on this journey, it was based on research that revealed that there was a need - customers were finding it difficult to identify the right shade of foundation. And the brand addressed this with the AR offering. While giving customers a seamless and unique shopping experience, it ultimately enhances sales.
Getting Future-Ready

With every passing year, more Gen Z shoppers (born between 1995 and 2010) are entering stores. Gen Z was born into a digital world and their experiences are steeped in tech. It's the first generation of true digital natives. Though they are quite young with very little purchasing power, they influence their parents' purchase decisions – a fact that an astounding 93 percent parents validate.

And, as this generation makes its way to 2020, its buying power will significantly increase to account for almost 40% of consumer shopping! How can retailers capitalize on this? Remember that the more digital and immersive the instore experience, the more appealing it will be for Gen Z, which is already tethered to their devices, even inside a store. From webrooming to price comparing, they use devices for nearly everything.

Despite this, Gen Z shoppers are surprisingly more open to instore shopping than Millennials. And, according to a report by Adyen, 44% are eager to experience VR and AR in-stores. The time is right for retailers to make an investment in the technologies and uncover new potential.

One of the most strategically well-thought-out uses of AR by a brand is IKEA Place. Customers download the app, pick the part of their home they want to refurbish, and select an IKEA product. The AR-enabled app adds the product as a digital layer to the selected spot and shows how it will look.

Making Associate Training More Experiential

It's not just customers who stand to benefit from the strategic implementation of AR and VR. Store associates no longer have to be dropped in the deep end of the pool to learn how to handle difficult scenarios wherein fact it's not just their careers that are at stake, but even the brand's reputation is. Imagine this, a customer walks into a store and meets a store associate who is not equipped with the right training or experience. The customer is less likely to have a pleasant experience and complete the purchase, which will have an impact on the business' bottom-line.

The best way around such situations is to prepare the store associate to tackle tough customers without really putting them in that environment. In other words, to provide real-life training, virtually. And this is exactly what Walmart has been doing across its North American stores. Over 1 million of its employees will be trained through VR to virtually work in Walmart stores and even manage Black Friday crowds.

VR based training is more impactful, as it gives the trainee the feeling that they have actually been through different scenarios. And why not, their brain has been, even though they physically have not. This VR based training has improved retention and confidence while also driving up scores on tests 10 to 15 percent. Interestingly, even associates who did not undergo the training, but just watched others go through it gained the same retention improvements.

According to research by Training Industry, a whopping $366.2 billion was spent in 2018 on training initiatives. If retail contributes even a small percentage to this, it's time they make the most of the dollars spent, by using training methods like VR to give trainees and their brand an edge. Data from the National Training Laboratory reveals that VR does more – retention rates when trained with VR is 75% vs 10% with reading and 5% with lectures.

It's quite likely that retailers will be concerned about whether these technologies are here to stay. According to the Gartner Hype Cycle for 2018, the tech and those underlying them will go up, up to 30% the graph in the coming 12 months. A study by Gartner shows that by 2020, 46% of retailers intend to use solutions either based on AR or VR, to align with customer expectations.

Retailers who plan offer memorable solutions and one-of-a-kind flagship stores or popup stores should strategically invest in the technologies and shift gears to get maximum mileage out of their investments. By using AR and VR to create shopping experiences that appeal to shoppers, retailers are not only affecting the sales metrics of today but even the future, by gaining shoppers' attention and possibly even their loyalty.