Current State of Play in Immersive Technologies - Virtual, Augmented and Mixed Reality (VR AR MR)
By Pradeep Khanna, Executive Director Asia Pacific, Sydney Chapter President & Global Co- Chair Education for the global Virtual Reality Augmented Reality Association (VRARA)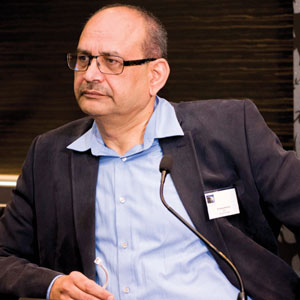 Pradeep Khanna, Executive Director Asia Pacific, Sydney Chapter President & Global Co- Chair Education for the global Virtual Reality Augmented Reality Association (VRARA)
As I travel all over the world and speak at conferences (especially business conferences), I find on average 70 per cent of the attendees do not understand the difference between Virtual Reality (VR), Augmented Reality(AR) and Mixed Reality (MR). Having said this, the level of curiosity is high and people want to know more about immersive technologies.
On the other hand, when I track what's happening in technology development and supply side of immersive technologies, I find most major companies are investing billions of dollars. There is so much happening, even I who is quite into VR, AR, and MR, find it difficult to keep up to date.
Despite all the hype, we are still not at the tipping point in immersive technologies. However, we are at an interesting point in time, where these immersive technologies, which have been around for the last 25 years will reach the tipping point in the next couple of years. But with the demand side still struggling to understand the technology itself, leave aside what to do with it, it appears to be a supply-driven tipping point.
The Immersive technology ecosystem consists of:
• Hardware
• Software
• Rendering engines
• Apps
• Content
• Platforms
• ++
Hardware includes Head Mounted Devices, Smart Glasses, PCs, Tablets, Mobiles ++ and this is dominated mostly by big global companies like HTC, Oculus, Microsoft, Samsung, Sony, and a host of others.
Software is mostly by medium scale companies
Rendering engines are small to medium scale companies – currently dominated by Unity and Unreal
Apps are a commodity with a large number of entities developing apps
Content and Platform companies tend to be mostly start-ups and small to Medium entities – with average headcount of anywhere between one to 35 people. Although I have met companies with 300+ headcount, I must say they are a minority. A large number of these start-ups are bootstrapped. Content company founders come typically with film production background or technology background. Very few company founders come with a business background.
Most of the discussion on VR, AR, and MR has strongly focused on the technology side rather than the business side probably as the technology is still emerging despite being around for last 25+ years
While lots of work has happened in listing use cases for immersive technologies, the move from use case to business case has not been very good, thereby delaying the move to the tipping point.
When I track what's happening in technology development and supply side of immersive technologies, I find most major companies are investing billions of dollars. There is so much happening, even I who is quite into VR, AR, and MR, find it difficult to keep up to date
So, what's happening in the enterprise space?
Following industries are having good take up of Immersive technologies:
1. Gaming and Entertainment
2. Education & Training
3. Health
4. Real Estate, Architecture, and Construction
Defence, Mining, Tourism, Automobiles, and Aeronautical are also having good take-up.
While Gaming and Entertainment is still the leader in the use of immersive technologies, the second-highest take-up is in Education & Training with Training being ahead of education– e.g. in Occupational Health & Safety Training , Vocational Training, and Soft skills Training. So far as health is concerned, all indications are, this will emerge as a huge industry for immersive technologies – especially in health training, mental and physical rehabilitation. In the Architecture profession, most major global companies are now having in house VR teams and are including VR as a standard part of their marketing proposals
Functionally, immersive technologies are having the highest take-up in:
• Marketing
• Training
• Marketing Field Operations
In the future, will it be VR or AR which will dominate? At the moment VR is the more mature technology but AR is coming up. Leveraging VR is a no brainer whenever imagination and visualisation are involved and where either it is physically not possible, very expensive, has a high risk to create an experience.
Both VR and AR have a role in various industries and functions with an industry. As an example, whereas Architecture predominately leverages VR, when it comes to construction and operations, AR has most of the applications.
While being a futurist is a mug's game, it appears AR will come up strongly in the years ahead especially with Apple's AR Kit and Google's AR Core.
The 'Holy Grail' of course is a single device which gives you an experience from reality to augmented reality to augmented virtuality to virtual reality.
Which segment, B2C or B2B, will be dominant in segmenting the use of immersive technologies is the question that is hovering at the moment. At present, B2C dominates. However, the future is still very much open. Huge expectations are getting built up around how 5G will be the backbone for Industry 4.0 and will revolutionise the enterprise use of immersive technologies. On the other hand there are equally massive projections on how consumer gaming and entertainment will be impacted by 5G.
We have to move the immersive technologies discussion from technology to business perspective. We have to look at what business problems do us need to solve, and then find the best emerging technology solution. Whether it is VR, AR, and MR or some other technology/emerging technology is a secondary issue. This requires blending business with technology at all levels of an enterprise with business driving technology.
Where do we go From Here?
We are living in a world where an emerging technology like VR AR MR, which has been around for 25+ years, is heading towards a supply-driven tipping point.
From a supply-side perspective, we may still find the going tough for the next two to three years. In the meanwhile, we can focus on brand building, and setup as many Proof of Concepts (PoCs) as possible.
On the demand side, we need to be dipping our toes now in immersive technologies and start moving it out from innovation labs to the mainstream. Only then, we will be able to leverage immersive and other emerging technologies as a source of competitive advantage.
With technology becoming ever-pervasive, the brave new world is about faster time to market and being innovative all the time to stay ahead of the curve.