Enabling New Customer Experiences through Immersive Technologies
By Amit Mangwani, Director Retail Marketing – APJ, Intel Corporation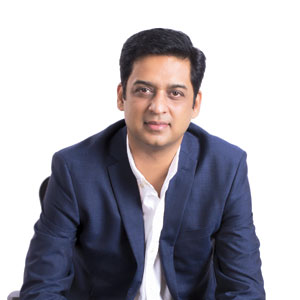 Amit Mangwani, Director Retail Marketing – APJ, Intel Corporation
Imagine this, David orders his daily morning cappuccino at his neighborhood café. As he takes his seat, he opens the café's app to play a game to get free coffee for three days. The game is simple. David has to find several virtual cups of coffee in the café, using the café's augmented reality (AR) app, and drain them before time runs out. Before he knows it, he has won the game and his cappuccino has also arrived. This game just made David's daily morning wait for his cappuccino a lot more fun and rewarding.
Now consider this, a sports footwear brand has launched a premium pair of running shoes that David has been waiting for. As a preferred customer, he gets invited to try them and pre-order the shoes. When David gets to the store, he is in for a new immersive experience. He gets to wear the shoes in different environments and experience everything, from the terrain to the sunrise in a virtual reality (VR) experience zone that the brand has created in-store.
It's not every day that we have technologies such as AR and VR, powerful enough to transform customer experiences. Both can create immersive environments in which customers can engage with the brand through a personalized experience, as well as seamlessness of transactions that customers are looking for.
So, Is AR Better than VR, or Is It the Other Way Around?
Maybe, because AR and VR are relatively new technologies, many tend to take an AR vs VR approach. But it is not a matter of choosing one technology over the other because one is better than the other, rather it is a matter of understanding that both technologies have different capabilities and utilizing the one that is right for a brand, depending on the need.
At the café, David did not have to be tethered to a VR device for a satisfactory experience. A simple, AR overlay-based game was all that was needed. On the other hand, an AR app would just not have given him the complete immersive experience with the premium running shoes. Both AR and VR can help provide the information customers need to make an informed purchase. However, each of them achieves this in different ways.
Research indicates that immersive telepresence, which allows a person to be in a different reality through VR, has a significant impact on customers' perception of a brand. It improves customers' understanding of a product and eventually affects their purchase decisions. It's especially critical for products that are out-of-stock or when sales are being driven through pre-orders. On the other hand, brands can use AR to give complete information—from the source of materials to the location where it was created— about products that are in stock.
Both AR and VR can help provide the information customers need to make an informed purchase. However, each of them achieves this in different ways
Can AR and VR be Pervasive?
If brands intend to make AR and VR tools that are pervasive and can be used in the long run, the key is to identify a reality that most customers want changed. Find a real issue and add a new layer of reality on it—either AR or VR. This is exactly what Home Depot and IKEA have done with their AR apps. They have understood that customers tend to regret making purchases for their homes just because they could not visualize whether a product would look good or not. And, then they solved it with the apps.
We need to remember that both AR and VR have one common purpose – to create an experience unlike anything the customer has had until now (whether inside the store, at home or online). And, this is extremely crucial, with the customer demographics changing. Research shows that 72 percent of millennials surveyed stated that they'd rather have experiences than things. So as millennials make up more of the retail customer base, experiences become more important.
Is Commerce the Only True Application of AR and VR?
Not at all. In fact, the two technologies can be applied in a wide range of areas, including sports. Intel made it possible for fans of the Olympic Winter Games to experience the thrill of the event, through either live VR or on-demand VR.
Another interesting instance of AR use has been in making the life of the traveler a little less stressful. At some point in time, nearly all of us have found ourselves in a foreign city, with signboards in the local language. And well, it can be quite stressful. Today, there is an AR-based app that adds a layer of information over what the tourist wants to focus on. This means, if a traveler wants to read a sign, he just has to use the app on the sign, and it will be translated. The app can also use the traveler's smartphone camera as a scanner to show information about different restaurants, museums, and shops within a building.
With the arrival of 5G on the horizon, AR and VR will likely see greater uptake among consumers. Why? Firstly, it reduces latency, which will increase the speed of experiences (whether it be AR or VR). Secondly, it will have better capability to handle a surge in traffic. Thirdly, the bandwidth that 5G offers is considerably superior to what 4G provides. In other words, it will allow the equipment and devices that AR and VR require, to run more smoothly and seamlessly, without any significant delay. With 5G, AR and VR experiences will become more realistic for more users across the globe.
With AR and VR having such a wide scope of application, it is no wonder that according to Goldman Sachs, the market for both technologies, is projected to reach $128 billion by 2025. Now is the right time for brands to leverage the technologies and capture a share of this market as we head into a phase when the adoption of these technologies will be more natural for both customers and brands.