VR: Solving Age-Old Problems with Emerging Technologies
By Priscilla Harris, Head of Virtual Reality ANZ, HTC VIVE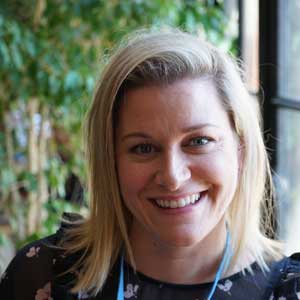 Priscilla Harris, Head of Virtual Reality ANZ, HTC VIVE
The first time I experienced room scale virtual reality (VR) was a couple of years ago and I had no idea what to expect. I was told I'd be shooting zombies, so I eagerly put on the headset and waited for the game to begin. Suddenly I was transported to a desert and as I looked down I noticed I was standing on rocky terrain. My first thought was, "I wish I had worn sneakers today so I could move around easily." A second later I had the realization that I was standing in a room completely void of furniture and on carpet, so my shoe choice was irrelevant— there were no rocks. As quickly as I conjured up this thought, it was forgotten again— zombies were running towards me, my heart started racing as I tried to shoot them before they attacked me.
When I took off the headset, to say I was blown away would be an understatement. I couldn't stop thinking about how immersive it was and how even though I knew it wasn't real, my experience felt authentic. From that moment, I wanted everyone to be able to experience VR and understand this is not just a gimmick.
The VR revolution continues at a rapid pace with Forbes noting sales topped one million in a quarter for the first time in 2017, and whilst gamers have been the early adopters of this technology, the enterprise sector is fast catching on to the possibilities.
VR headsets are being incorporated across many enterprise verticals, from manufacturing to education, healthcare and design, just to name a few. For CIOs, evaluating how VR can have an impact on their organization, there are several benefits you may have not yet considered.
Using VR for Specialized Training
Flaim Trainer is a great example of how VR delivers a real-world impact on organizations. Launched out of Deakin University by Dr. James Mullins, Flaim Trainer identified the potential to create a training simulation for fire fighters utilizing VR technology. Recognizing that one of the biggest concerns to Fire and Rescue teams is the ability to train fire fighters on real situations that cannot be replicated safely, Flaim Trainer allows teams to train in a realistic VR simulation without the associated danger.
VR continues to bring incredible benefits to enterprise, from saving time and money to improving safety, increasing information retention and connecting new audiences
Living by its slogan "train virtually to experience reality," the technology creates a virtual environment where fire fighters can successfully learn in a near real environment.
Bring Immersive Experience to Unexpected Places
Imagine you are creating a newly planned residential development, targeting buyers from around the country and internationally. While the development may be months or years away, developing a VR walkthrough of the apartments allows potential buyers to immerse themselves in the property—whether they are in Sydney or Singapore!
We are increasingly seeing solutions implemented into smart cities and smart factories. One company leading in this space is Snobal, who have been building artificial intelligence (AI) assisted VR solutions for business since 2014. Snobal's software solutions have recently been applied at McKinsey's Digital Capability Center (DCC) in Singapore—the solution is now being used to demonstrate (in VR) a typical manufacturing production line for a gearbox company. As part of the solution, access to an insights dashboard enables the ability to report user behavior in the virtual environment.
We are also beginning to see public libraries become more innovative and progressive by adopting VR technology. They are becoming the community entry point to a new digital world, offering access to technological innovation that was otherwise unavailable. This is helping to breakdown the digital divide and the result is that users are becoming increasingly more engaged with a totally immersive hands-on technology platform. This is transforming education by providing a new experiential environment.
Platform Development
VR continues to bring incredible benefits to enterprise, from saving time and money to improving safety, increasing information retention and connecting new audiences.
And getting started with VR isn't daunting. Many technology companies are now supporting others through programs like—VIVE X, a $100m global accelerator program providing support, mentorship, connections, and funding for developers looking to take their product to the next level.
Melbourne-based Opaque Space, for example, has been able to take its Earthlight: Arcade game (which delivers an authentic International Space Station experience)—to the next level and is now collaborating with NASA to ensure authenticity.
For everyone, the future lies in the digital world and VR is just the beginning. Business now needs to prepare for the convergence of VR, augmented reality (AR), and mixed reality (MR). This will see a time where the VR hardware and technology is integrated into everyday life.
And that is what makes me excited to be a part of this significant tech evolution.