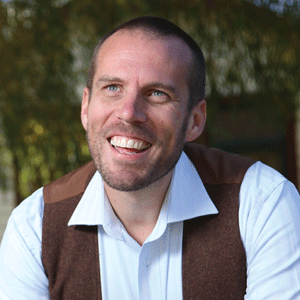 David Shering, Founder & Creative Director
The evening of December 7, 2018, was memorable for a small island state in Australia, as a collection of people gathered in the Tasmanian Museum and Art Gallery (TMAG) to witness an extraordinary exhibition. Although the exhibition was held in honor of the 175th anniversary of The Royal Society of Tasmania, the limelight was stolen by something completely different in the room. Grabbing digital devices scattered around a small stone exhibit, visitors were stunned to see the fossil enclosed at the center sleepily rise from its rocky confines, shake itself, and proceed to walk around as if truly alive. At that moment, the audience was immediately transported to a magical world, although, it was very much a part of their reality. A reality that Handbuilt Creative, an extended reality (XR) company, had made possible through its AR services.
With AR and VR based technology filling up the tech-space, Handbuilt is offering its fair share of contribution to the market too. Originally started as a web development company in 2009, Handbuilt transitioned to an AR-based technology developer in 2017, using its UX expertise to bring about interesting developments in the field of extended reality. "We followed the technology for two years before moving into it, and we noticed a great deal of innovations taking place, which really intrigued us," says David Shering, founder and creative director of Handbuilt. Today, the company has earned a niche for itself as one of the ground-breaking AR solutions providers that currently specializes in photorealistic AR and mixed reality.
One of the major highlights of Handbuilt is their UX design approach to creating compelling AR/MR content that aims to subconsciously influence people to share their experiences with others
By using extraordinary VFX and customizable AR/ MR-based digital services, Handbuilt produces high-quality interactive content to help companies enhance the brand value of their products or location. One of the major highlights of Handbuilt is their UX design approach to creating compelling AR/MR content that aims to sub-consciously influence people to share their experiences with others. This stimulates a kind of user engagement that attracts people to visit specific locations or brick-and-mortar establishments.
Functioning as a full-fledged digital agency and a consultant for ideation, alongside AR/MR software development, Shering believes that Handbuilt Creative stands high-minded at the epoch of an emerging market. "The AR industry's potential has not yet been understood completely by many," he mentions. The idea of pairing technologies like AR with brands is still perceived only as a source of publicity. "Hence, many business organizations are skeptical of the ROI," explains the founder. But with their work gaining millions of views online and an international following for its engagement levels, Handbuilt Creative aims to conquer all the constraints of an industry that's barely two years old with their assurance of offering high-quality mixed reality experiences that delivers a serious return.
With eyes on the peak right now, Handbuilt is working to further improve its UX workflow and make their work even more engaging. Simultaneously, the company is also investing a significant amount of their time in offering AR/MR innovations that can be easily incorporated with their client's marketing strategies to bolster their campaigns. Several iconic global brands have started taking an interest in what Handbuilt Creative has to offer. "By the end of this year, our plan is to fortify our presence in Silicon Valley, and we are not shying away from pushing standards to achieve the dream we believe in," concludes Shering.