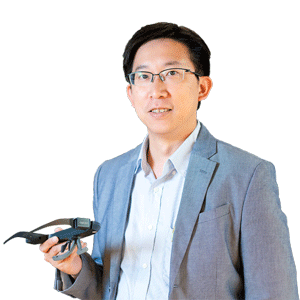 Shao-Yi Chien, CEO
Immersive technologies are under significant development with billions of dollars being poured annually on R&D. Among the multitude of technologies available to advance AR/VR experiences, eye tracking seems to be the most promising of them all. It has the potential to not only help solve human interface problems with AR/VR but also to improve the overall visual quality. However, integrating eye tracking into AR/VR devices has its own set of challenges. With the onset of AR/VR mobile devices, power consumption becomes a significant issue. Second, the integration effort of an existing eye-tracking solution is too high to make it affordable for everyone. In pursuit of discovering endless opportunities in the field of eye-tracking, a team of dreamers, doers, and thinkers in Taiwan founded Ganzin. The company's eye-tracking technology overcomes the challenges in integrating eye tracking into AR/VR devices with easy mechanical design, small form factor, low power consumption, and comprehensive application scenarios. "We build an eye-tracking solution that could be affordable by everyone and used every day," says Shao-Yi Chien, CEO of Ganzin.
Ganzin optimizes the entire eye-tracking system from the algorithm, hardware architecture, sensor, to mechanical design. The outcome is Aurora eye tracking module, which is a compact module enabling eye-tracking capability on clients' AR/VR/smart-glasses devices with minimum effort. Aurora composes of two sensors, EyeSensor and an Eye Processing Unit (EPU). Clients can simply attach the EPU and two EyeSensors on their devices to enable the eye-tracking capability.
"Our solution unlocks the potential of the eyes as the ultimate interface with the digital world," remarks Chien. As a solution provider, Ganzin will provide all kinds of supports to help customers for system integration.
Ganzin Technology is spun-off from National Taiwan University from a project granted by the Ministry of Economic Affairs, Taiwan (ROC). Boasting of an innovative algorithm and chip design, Ganzin features an easy mechanical design, small form factor, low power consumption, and wide application scenarios. In addition, the company offers a strong hardware/ software design capability. "Because of these features, we are confident that our solution can be integrated into all kinds of AR/VR/smart-glasses. We hope to have a partnership with all AR/VR companies to provide the best experiences to users," explains Chien.
Our solution unlocks the potential of the eyes as the ultimate interface with the digital world
Complementing Ganzin's wide array of features is a team of experts in human behavioral psychology who take part in shaping next generation eye-tracking modules. The team includes famous experts and talents in computer vision, IC design, computer graphics, psychology, and system design. "Perceptual psychologists are frequent eye-tracker users as they use eye trackers to study human behavior in many experiments. Our team leverages their expertise and experiences with various eye trackers to enhance our product," states Chien. They also help clients understand how to use eye-tracking for various applications.
As Ganzin's eye-tracking can be used in versatile AR/VR devices, the company is in the engineering sampling and design-in stage with several customers. "After collecting more feedback from customers, we plan to launch the next version of our eye-tracking technology in the year of 2020 with more advanced features," informs Chien. The company will continue creating the next generation eye tracking modules that can be easily integrated into AR/VR devices to help unlock the potential of the eye as a seamless interface into the extended reality world.